As a pet owner, you probably treat your dog or cat as a family member, so it makes complete sense to pick out a bed that they love. Just like beds for us humans, pet beds can also contain harmful chemicals. Particularly naughty pets might even have a little chew of their bed, making material choices even more important. In this article, we're going to be checking out the best non-toxic beds that you can buy in the UK.
Berkeley Dog Beds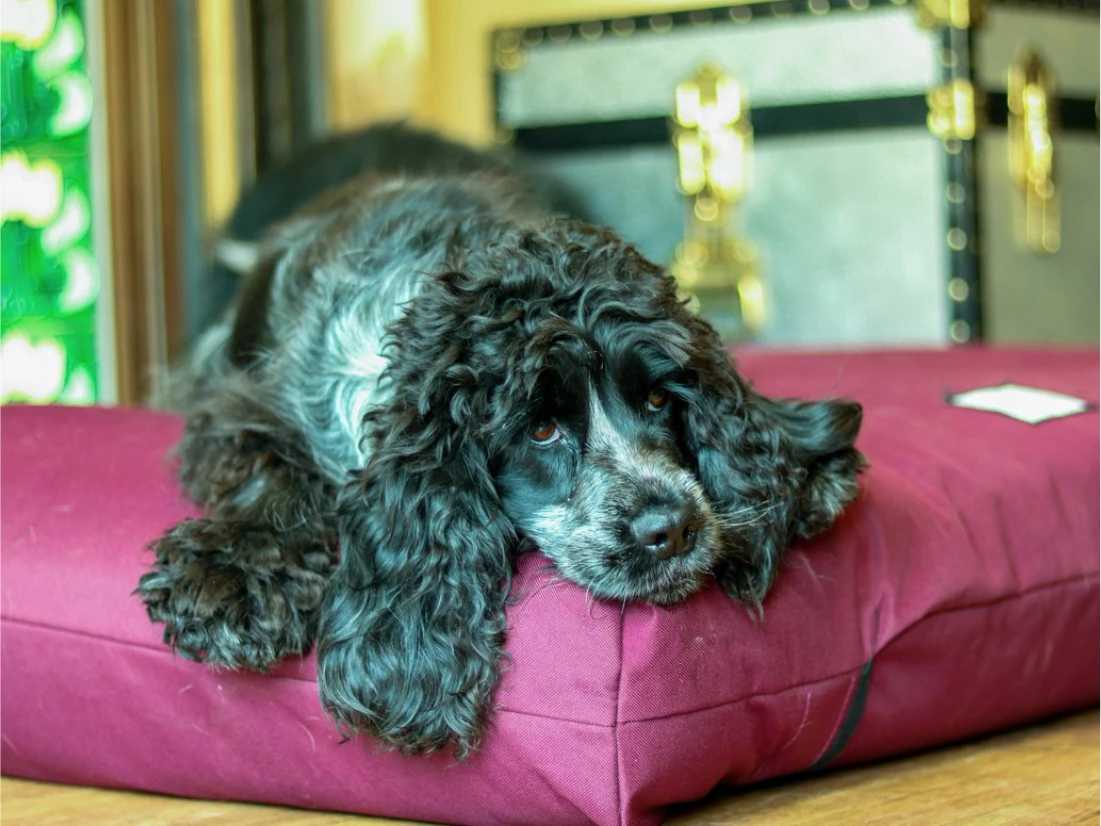 Based in Hampshire, Berkeley provide orthopaedic dog beds in five different colours and three different sizes, with prices ranging from £139 to £225. These are more luxurious than any dog bed I've seen before and contain pocket springs to offer optimum comfort and joint support. This should be particularly beneficial to dogs with joint problems or arthritis as well as older dogs that need that extra bit of comfort. Suitable for all breeds, I don't see any reason that the mattress couldn't also be used for cats.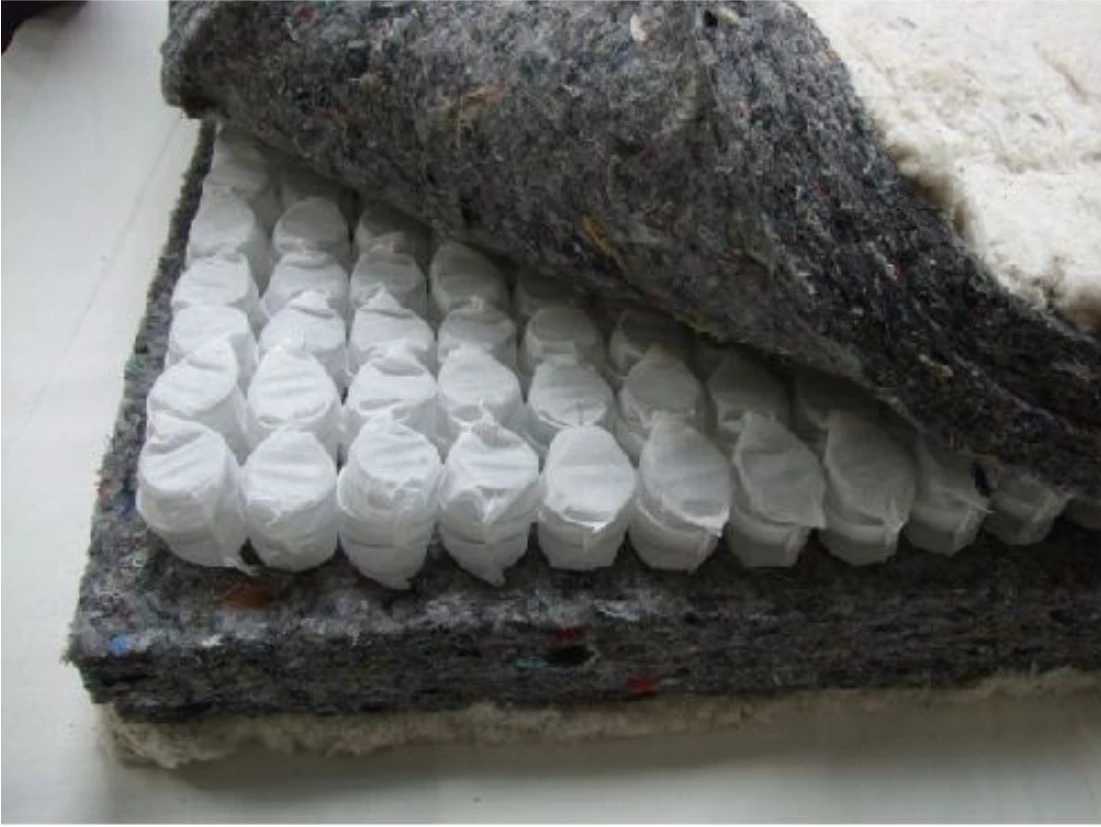 Looking at the construction of the bed, it uses pocket springs with natural fillings and a removable waterproof cover. If you have already read our previous article on what to look for in a good non-toxic mattress, you may be aware that there are some who believe that sprung mattresses should be avoided as the metal springs can act as a radio antenna and generate 'electro-smog'. On the other hand, you may decide that the joint-relieving benefits of a sprung mattress are of greater importance to your pet.
Martin from Berkeley, was very helpful and let me know that none of their beds use memory foam (a source of dangerous VOCs) nor do they contain any fire-retardant chemicals.
The Orthopaedic Mattress that we offer contains no foam of any kind and no fire retardant chemicals.

We wrap lambswool around our pocket spring core and natural fibre filling to give a good degree of fire resistance.

The fillings are non-woven wool felt sourced and made in Yorkshire from recycled garments and offcuts. It is c. 80% wool-based with most of the balance being cotton. It does have a small percentage of polyester as this gives the felt a degree of springiness and bounce by binding with the other fibres to stop the filling flattening and going hard.

Martin, Berkeley Dog Beds (2020)
Unfortunately, the waterproof cover is made from PVC-backed Nylon, both man-made materials with various harmful properties. The waterproof aspect may be important if you are expecting a lot of accidents, but we would advise removing them as soon as convenient.
The mattress can also be combined with Berkeley's Wooden Dog Bed, which offers a luxurious frame to place the mattress inside. This has a natural linseed oil treatment to bring out the colour and grain of the wood.
Toxicity: Low but the metal springs may be a concern for some and the PVC waterproof covers need to be removed
Comfort: The pocket-sprung construction makes this a very comfortable choice
Vegan: No
Price: £139 to £225
Verdict: A great option for dogs with joint issues or arthritis
Buy the Berkeley Orthopaedic Mattress Buy the Berkeley Wooden Dog Bed
Hixx
Hixx have a very emotional story which led to them launching their dog supply company in Faversham, Kent. Reading their website, it is clear that they have a strong understanding and respect for non-toxic and sustainable products.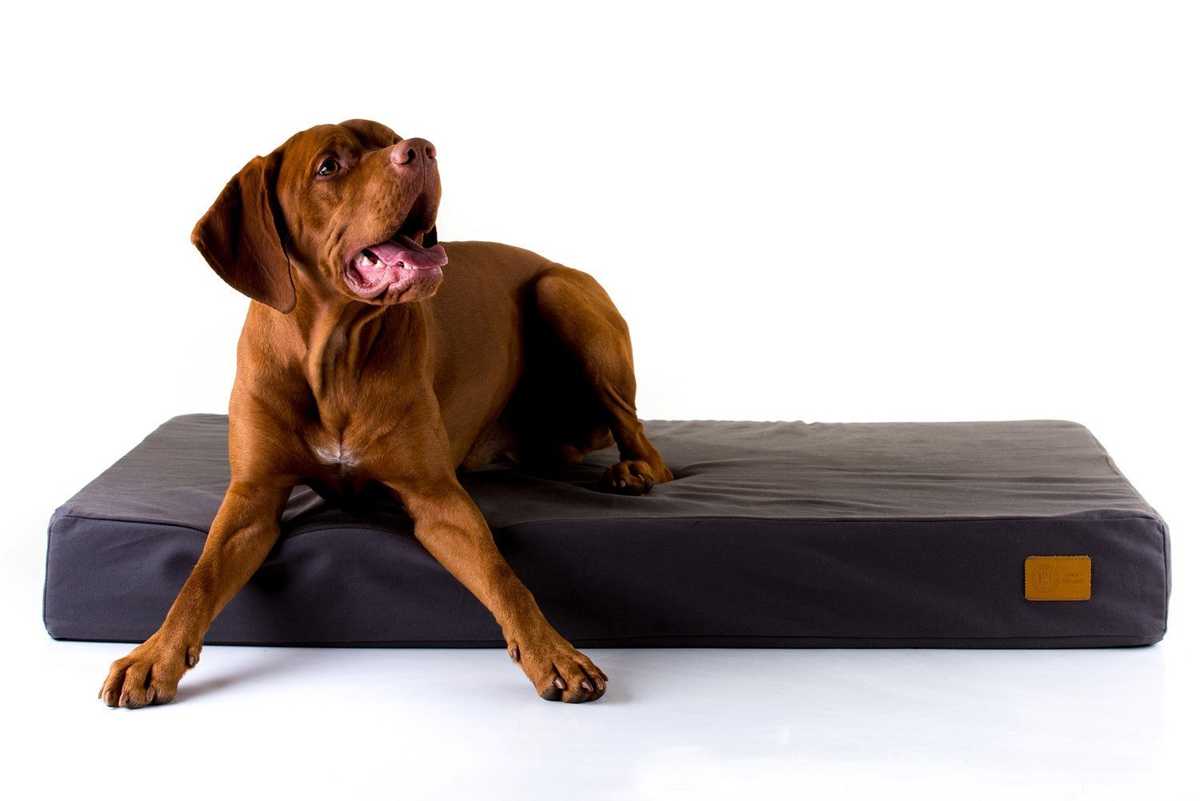 They sell a variety of beds, all of which are at the higher end of the cost spectrum ranging from £190 for their Wild Rover Dog Bed, to £650 for their largest Float Orthopaedic Dog Waterbed. These appear to be suitable for all breeds of dogs, and could equally be used for cats.
With the exception of the dog cushion, it is stated that each of these beds is excellent for dogs with rheumatism, arthritis and hip dysplasia and can also relieve pressure points and hot spots.
The mattress for the Wild Rover Dog Bed, Classic Orthopaedic Dog Bed and Nest Orthopaedic Dog Beds are made from a combination of organic natural latex, coir (coconut fibre) and organic wool. These are then covered with unbleached organic cotton (machine washable at 30 degrees) and an outer layer of denim cotton (also machine washable at 30 degrees). I am very impressed with the mattress construction, which is actually very similar to the best human non-toxic mattresses.
I spoke to Sarah from Hixx who was very helpful — she has an excellent understanding of her products and supply chain. For the moment, the only concern is that they are using polyester thread to hold the beds together because it is very difficult to find strong enough alternatives. This is of course a tiny percentage of the bed construction and I am confident that Sarah and her team are doing everything they can to find alternatives.
The only product that uses non-ideal materials is the waterbed, which includes a bladder and heat pad that contain PVC, however, this is pretty much unavoidable if these are features you are looking for.
The dog cushion is a little different to the mattress options and is made from duck feathers and woollen cloth from one of Britain's oldest mills. This is totally organic and natural but the duck feathers may cause an issue for some allergy sufferers.
These beds are very much positioned at the luxury end of the market, and at these higher prices, it is good to know that they provide both custom made beds and a repair service.
Toxicity: Very low, however some plastics are contained in the waterbed
Comfort: The latex is naturally supportive, whilst the waterbed provides a therapeutic solution
Vegan: No
Price: £190 to £650
Verdict: On the pricey side, but provides the best combination of non-toxicity and comfort
Buy a Hixx Dog Bed Buy a Hixx Dog Cushion
Mutts and Hounds
Mutts and Hounds provide a number of more affordable dog beds. They come in three models — donut, boxy and pillow, with a wide variety of different designs available in each (including check, tweed, striped and patterned). They each come in a range of sizes: small, medium, large and extra large.
The small company is based in Wiltshire and is still relatively new having been founded by animal-lover, Laura in 2011.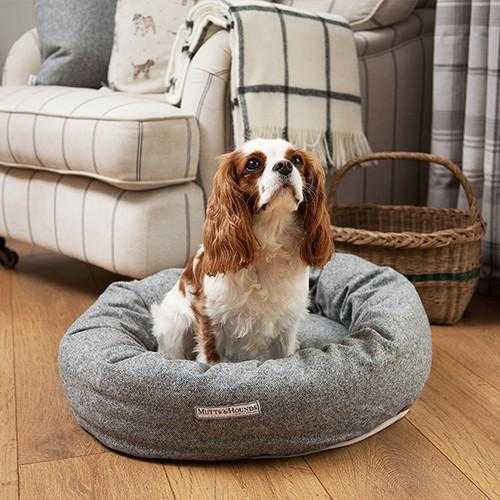 There is currently a sale on, so their cheapest offering, the small donut dog bed is available for £54.95 (usually £78.50), with their most expensive, a large boxy dog bed available for £169.
Sophie from the customer service team was very helpful and quick to respond to my enquiries. Unfortunately I found out that the beds use non-ideal polyester fillings and the pillow beds contain harmful flame resistant inners. On the other hand the boxy and donut beds are washable and have not been treated with flame retardants.
Toxicity: Medium due to polyester (High on the pillow cushion due to the use of flame retardants)
Comfort: Probably sufficient, but there are better options
Vegan: Yes (from what I can tell)
Price: £55 to £169
Verdict: A cheaper option but unfortunately the use of polyester makes these less attractive
Buy a Mutts and Hounds Dog Bed
Made
Made provide quite an attractive range of pet beds to go alongside their more well-know human furniture range. The prices of these are the most affordable of any of the reviewed suppliers. Currently the cheapest is a Kysler Small Round Bed in Pink for only £16 (reduced from £25) and the most expensive is the Extra Large Kyali Dog Sofa in Natural Walnut and Navy for £199 (from £229).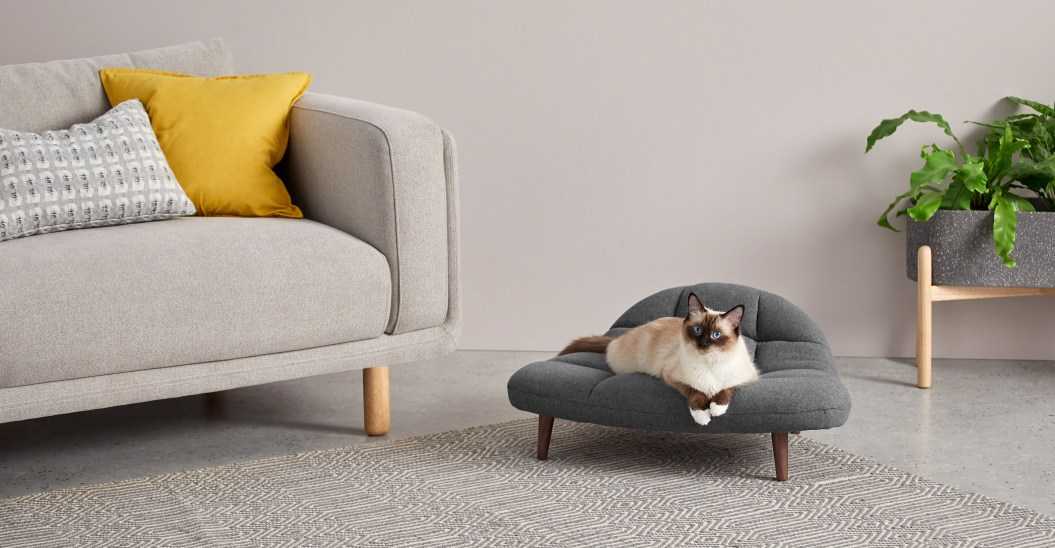 Unfortunately, much like the Mutts and Hounds dog beds, these are all made from 100% polyester and are therefore not an ideal option for a non-toxic home. Getting a response on the treatments used in their beds took considerably longer than with the smaller producers, but after a few days, they were able to confirm that no treatments were used on the Kysler Round Pet Bed. Presumabley their other beds also avoid the use of flame-retardant treatments, but I would advise checking before making a purchase.
Toxicity: Medium due to polyester
Comfort: They appear to be fairly comfortable, but I doubt they provide the orthopaedic support of other beds
Vegan: Yes (from what I can tell)
Price: £16 to £199
Verdict: A cheap and attractive option but, again, the use of flame retardants and polyester make these unsuitable for a non-toxic home
Casper
I often see adverts for Casper human beds, but a short investigation into these shows that they are a very bad choice for a non-toxic home.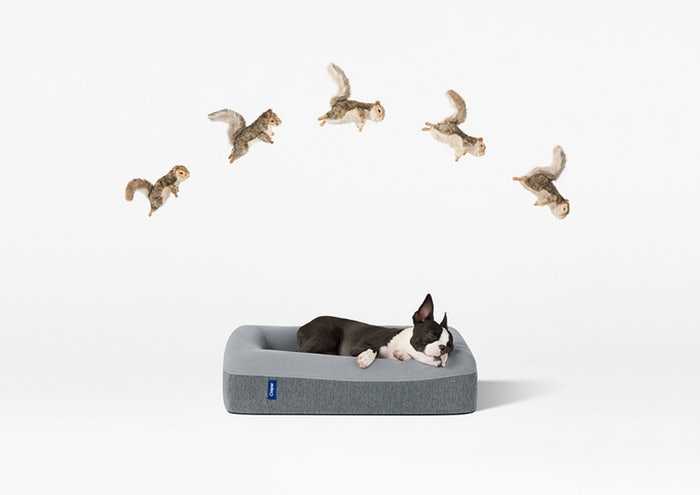 According to their product specification, they are loaded with toxic materials that have been identified as harmful:
Visco elastic memory foam
Polyurethane support foam
Nylon, polyester, and olefin cover
Verdict: Avoid anything made by Casper
Amazon
As an online marketplace, Amazon sell a huge variety of pet beds from many different vendors. The first bed I looked at contains orthopaedic memory foam which immediately tells me that it is unsuitable for a non-toxic home and could be harmful to your pets.
The next one, a "Round Pet Bed" was a lot cheaper (£9.38 for the smallest), and claims to be non-toxic, environmentally friendly, mildew proof and moth proof with "AirLOFT Fibers" — however, it is unclear what it is actually made from (the AirLOFT appears to be some sort of polyester). I am also concerned that the claim to be "moth-proof" means that it is treated with insecticides.
It is possible that some items on Amazon are suitable for a non-toxic home, but a lack of accountability from suppliers makes this a risky option.
Verdict: Avoid using Amazon wherever possible. If you do find something you like, make sure to investigate thoroughly — check the Q&A and the reviews and ask questions where needed.
Conclusion & Verdict
There are some who will tell you that getting your pet a luxury non-toxic bed is a step too far, but for many of us our dogs and cats are close members of the family that deserve the best. In fact, their small size makes them even more susceptible to toxic materials and treatments. It is also worth remembering that your whole family will be affected by whatever toxins are given off.
Of the six different dog bed retailers reviewed here, two stood out far above the rest — Berkeley and Hixx. Whilst these are both pretty expensive (upwards from £139), they provide excellent products that give extra comfort to our pets, particularly if they are suffering from arthritis, rheumatism or hip dysplasia. Out of those two, Hixx comes out on top since, other than the waterbed, all of their beds are virtually 100% non-toxic.
Please let us know what bed your pet uses — do you have any experience with the ones we listed? We'd love to see how your pets enjoy their beds, so please add your photos in the comments below.
Remember that you can also sign up to our newsletter to keep informed about keeping a non-toxic home.
Share