Following on from our earlier article on what to look for in a good non-toxic mattress, we investigate the best non-toxic mattresses to buy in the UK in 2019.
As you might expect, each review will be driven primarily by the non-toxic credentials of each mattress, however, we will also be looking at comfort, price and the ecological impact.
Cotton Safe Natural Mattress
Organic Wool Mattress
The first of our mattresses is the Organic Wool Mattress from Cotton Safe Natural Mattress, a small family business based in Woodbury, Devon. What makes this bed most impressive is that the manufacturers claim to use no chemicals whatsoever. One of the key components of these mattresses is their UK Patented Cottonsafe fabric. This is made from a blend of wool and cotton and was developed as a natural fabric that could meet the UK fire regulations without the use of harmful chemicals. According to Cottonsafe, they have been a number of customers that have suffered from Psoriasis have reported a marked improvement in the condition.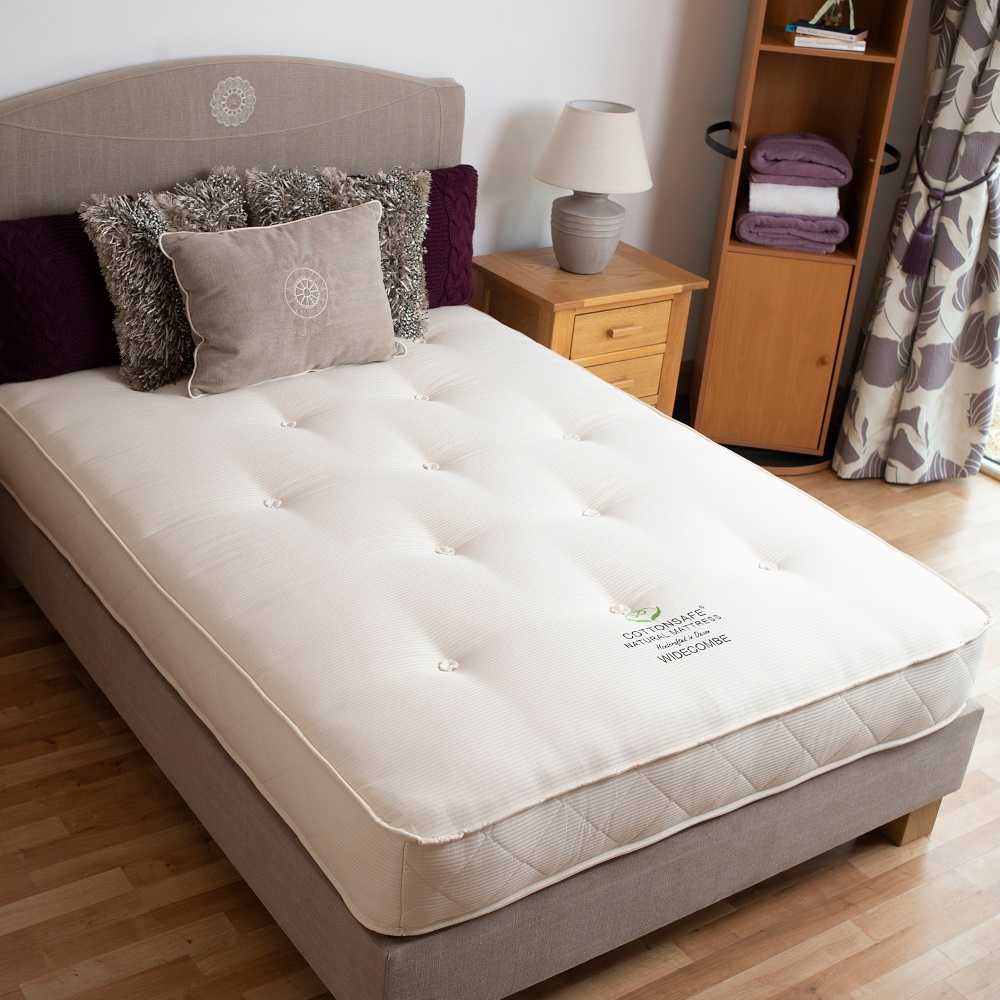 The mattress comes in two variations: the Appledore, or the more expensive Widecombe which has a softer top surface. Each variation is made of a similar construction with 1,000 pocket springs (ideal for comfort) with wool and Cottonsafe fillings and natural threads. Since wool is naturally flame resistant, there is no need to add any harmful flame retardants. The non-toxic credentials of the Cottonsafe mattress appear to be excellent, however, the presence of metal springs may be a worry if you may remember that some studies have indicated a possible link to cancer.
At the time of review, the organic wool Appledore mattress costs £669 for a small single, going up to £1,645 for the super king, whilst the Widecombe costs £800 for a small single and £1,902 for the super king.
Toxicity: Low, but metal springs may be a concern for some
Comfort: Reviews indicate it is a comfortable mattress
Vegan: No
Ecological impact: Good
Price: £669 to £1,902
Verdict: A great option if you're after a non-toxic pocket-spring mattress
Buy the Appledore Mattress Buy the Widecombe Mattress
Vegan Choice Mattress
The vegans amongst you may be pleased to hear that Cotton Safe also make a Vegan Choice Mattress which is totally free of animal products. The mattress construction contains 1,000 pocket-springs, with the fillings and covers made from a combination of polyester and cotton.
When I asked how they were able to comply with fire regulations with neither wool nor flame retardant chemicals, I received a very quick response to let me know:
Polyester as a man made material is inherently fire retardant, so does not require any chemical treatment. The fillings we use in our mattresses are pure and untreated as well so when they are encased in the polyester cover, meet all UK domestic fire regulations.

Cotton Safe Natural Mattress (2019)
Whilst I have not bought anything from Cotton Safe, I was impressed with their quick response and knowledge of their product. Unfortunately, there are indications that polyester may have some toxic properties, with its manufacture doing a certain degree of harm to the environment. On the whole though, I think this is a pretty good compromise for vegans.
At the time of review, the cost of the mattress ranges from £519 for a small single, going up to £1,295 for the super king.
Non-toxic: Average (since it contains metal springs and polyester)
Comfort: Reviews indicate it is a comfortable mattress
Vegan: Yes
Ecological impact: Average
Price: £519 to £1,295
Verdict: A good cheap option for vegans, but the polyester is a concern
VitalWood
VitalWood is a relatively new company from Hungary — concerned by "electro-smog", the unwanted electro-magnetic fields amplified by the metal springs in beds, they developed their own wooden coil sprung mattress in 2011.
The construction of the mattresses consists of natural latex, graphite-infused latex, 20 to 40 untreated solid beechwood springs, lambs wool, coconut coir and a CottonSafe cover (a cotton and wool blend). According to their website, the latex they use is all natural (with or without infused graphite).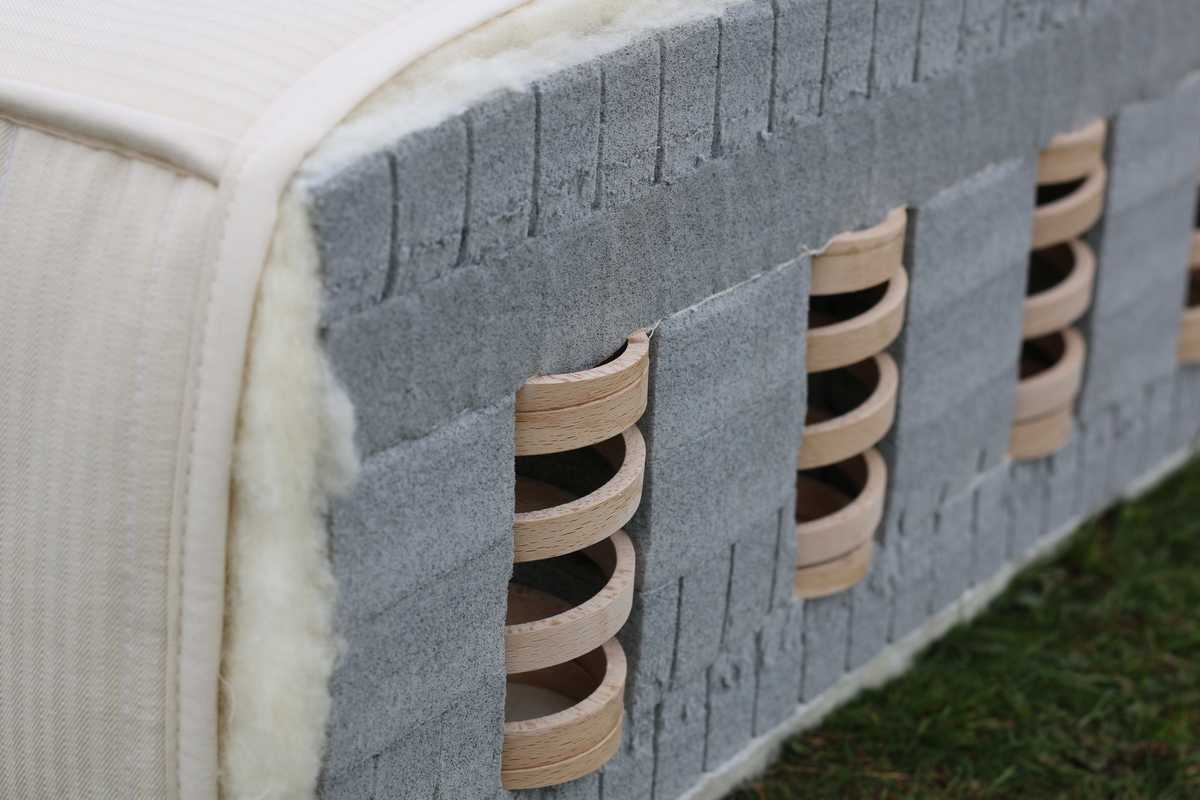 The number of springs is obviously far lower than what you would find in a metal spring mattress and it appears that this is because the mattress is actually a hybrid of a latex foam and sprung mattress, with their "Anatomical Wooden Springs" being strategically placed to provide the best support.
VitalWood provide a range of mattresses for the UK market, all of which are fairly expensive. The cheapest, the Aspiro range starts at £1,742 for a single going up to £3,515 for a super king, whilst the Arden range goes from £2,170 for a single to £4,299 for a super king. If you wish to try out their mattresses, they recommend visiting their showroom in South East London.
Non-toxic: Very good
Comfort: Presumably very good given the latex and wooden spring construction, you can try out the mattress in their London showroom
Vegan: No
Ecological impact: Very good
Price: £1,742 to £3,515
Verdict: Innovative non-toxic mattress, although it is significantly more expensive than other options
Demko
Demko have developed a complete orthopaedic bed-system that is used in hotels as well as spine and sport injury clinics. In addition to their bed system they also make a range of organic mattresses.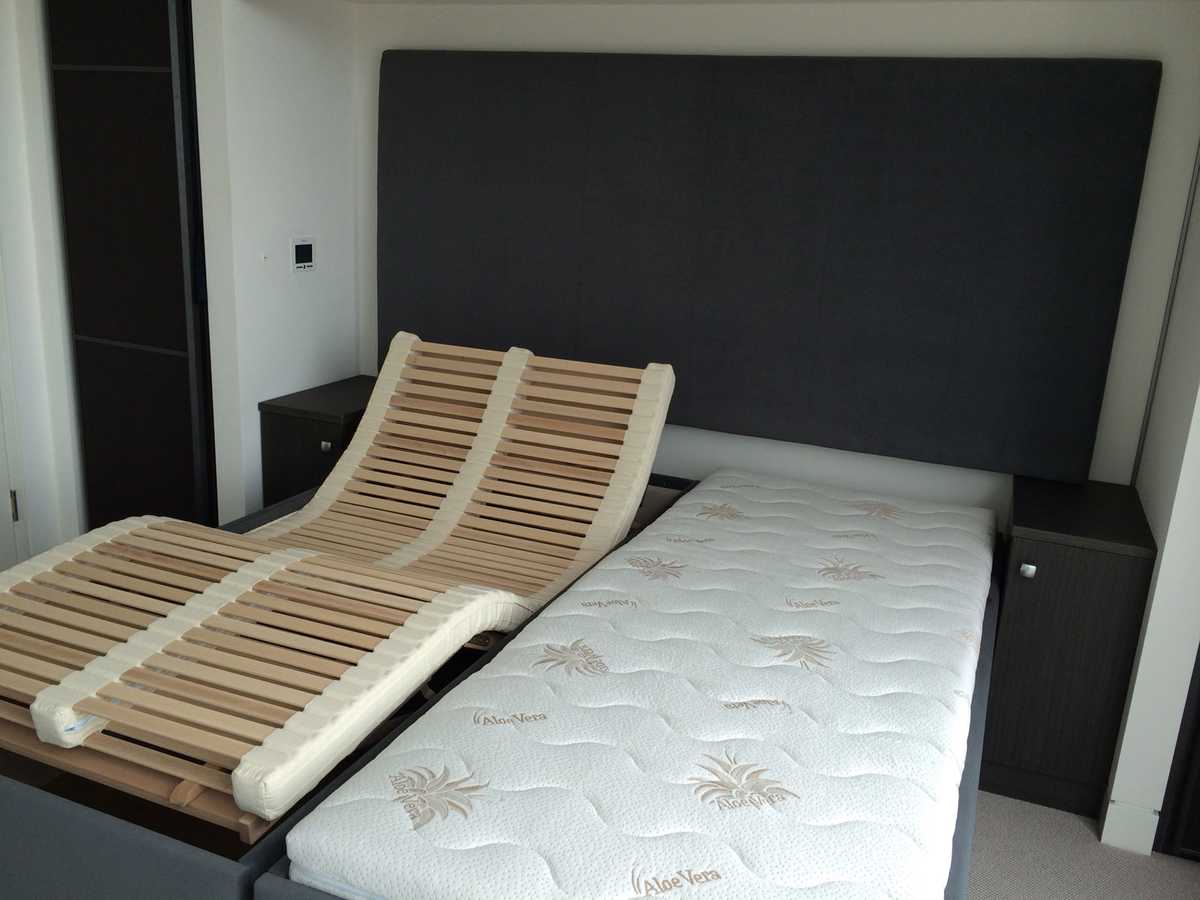 The mattresses are constructed with cotton, 100% organic latex, coir (coconut) fibre and Tencel, they do not glue their layers to avoid the use of adhesive. Instead of chemical fire retardants, they use a thin layer of natural graphite which acts as a natural fire barrier.
After a little investigation, I found that Tencel is the brand name for a modern fibre known as lyocell. This uses wood pulp as its raw material before being processed into a fabric — from what I understand, this is relatively sustainable with low toxicity. I was a little unclear as to what the graphite layer might be made out of since a lot of graphite-infused latex is synthetic, however, I received a quick response from Demko assuring me:
The organic latex is mixed with natural graphite. This is a 1cm layer on each side of the mattress to comply with the regulations. It still has the organic certificate as the graphite is also completely natural.

Demko (2019)
Demko were very helpful and went on to confirm that they use 100% natural latex made using the Dunlop process, which leaves me very impressed with their ability to use sustainable materials at the same time as avoiding animal products.
There are quite a few different models providing various combinations of layers, so the price also varies quite a bit. The cheapest models, start at £870 for a small single with the most expensive models going up to £1,860 for a super king. Their best selling and recommended is the DeLuxe C which costs £990 for a single, going up to £1,690 for a super king.
Non-toxic: Very good
Comfort: Excellent according to trustpilot reviews
Vegan: Yes (although this is never stated in their marketing)
Ecological impact: Very good
Price: £870 to £1,860
Verdict: An excellent comfortable and non-toxic mattress which is also suitable for vegans
Milam Mattress
Milam are an "eco-luxe" mattress company base in Epsom, Surrey. They have a strong philosophy for eco-conscious and luxurious products which includes their own Milam Mattress.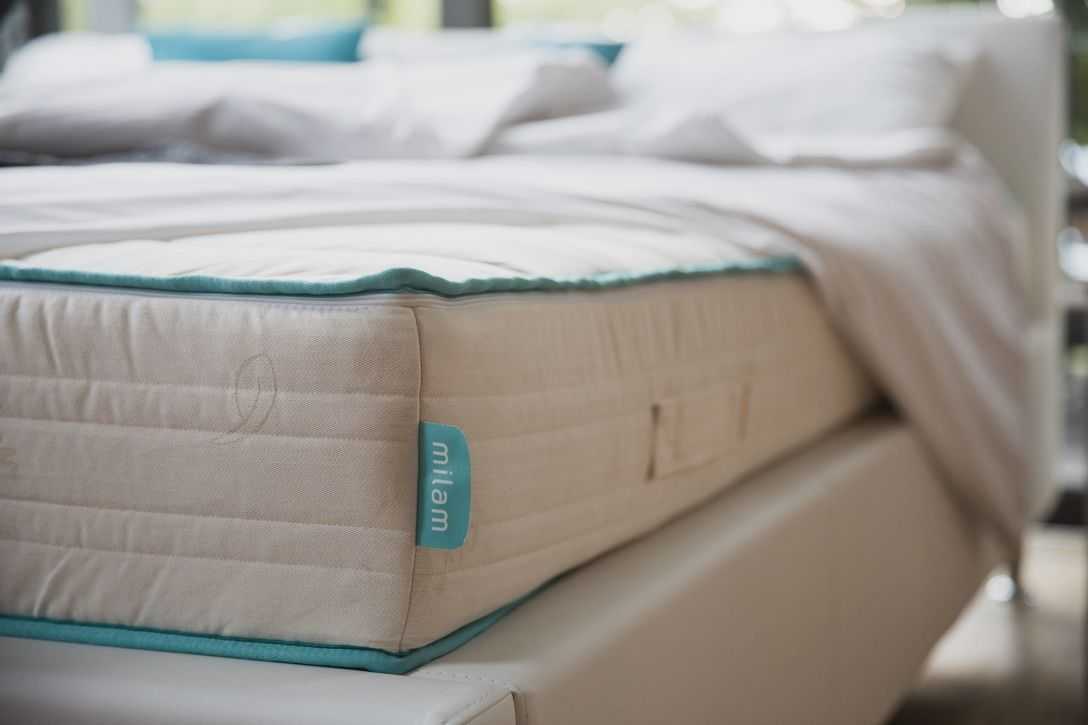 The mattress is constructed from layers of cotton, coir (coconut) fibre, 100% natural latex and graphite infused latex (70% natural latex and 30% graphite) with a cotton and merino wool cover. The mattress is designed with seven comfort zones for maximum body support. Each zone corresponds to the part of the body it is designed for and provides unique support to that area. If you are unsure on how firm you would like the bed, or perhaps you need to set the bed up to suit different guests, this makes changing the firmness really easy — just flip it between the soft and firm sides.
The price ranges from £889 for a small single to to £1,649 for a super king, but you can get a 15% discount by subscribing to our newsletter.
Non-toxic: Very good
Comfort: Each side offers a different level of firmness and they also offer a 30 day home trial
Vegan: No
Ecological impact: Very good
Price: £889 to £1,649
Verdict: Another very good non-toxic mattress
LatexSense
The Serenity Organic Latex mattress from LatexSense is made from 100% natural latex sourced from Sri Lanka. As explained in our article on mattress types, 100% natural latex has very low toxicity provided it is not treated with any harmful chemicals. Like the other latex mattresses, a graphite infused layer is also used to provide a non-toxic fire barrier. The removable cover is made from organic cotton and merino wool, which is naturally resistant to fire.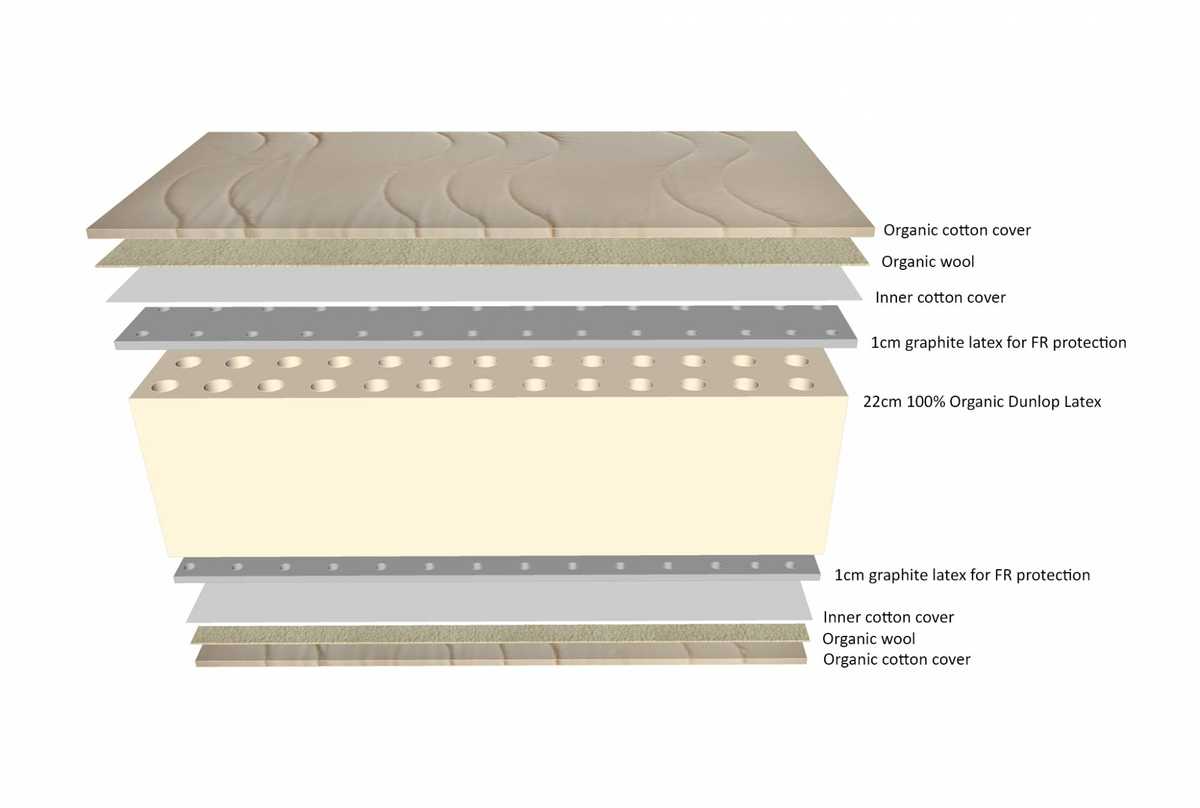 The mattress comes in firm, medium or soft — since latex mattresses are know for being firmer than others, I bought a soft one for myself and can confirm that it is very comfortable. Even the soft mattress is actually quite firm compared to others, so it may take some time to get used to if you prefer a softer mattress. Latex mattresses are quite different to memory foam mattresses, so you will not find yourself sinking into it, personally I find this more comfortable as it does not restrict me from rolling around.
I have heard that some experience a strong smell of wool in the first few weeks of owning the mattress and some might argue that wool might be a problem for allergy sufferers. However, from my own experience as a sufferer of hayfever and mild psoriasis, I can say that this has not been a problem for me.
The mattress was delivered extremely quickly (within a few days of ordering). That leads me to one more feature of this mattress that I think is worth mentioning — it comes vacuum packed in a relatively small box which makes it much easier to move into place when it arrives. You can then open the vacuum sealed bag and watch as your new bed expands to its proper size.
At the time of review, the cost of the mattress ranges from £780 for a small single to £1,395 for a super king.
Non-toxic: Very good
Comfort: Very good
Vegan: No
Ecological impact: Good
Price: £780 to £1,395
Verdict: Another excellent non-toxic mattress, although the wool means it is not suitable for vegans
Buy the Serenity Organic Latex Mattress
Verdict
I was actually pleasantly surprised at how seriously each of the companies reviewed appear to be committed to providing non-toxic mattresses. All of the options provided have their own merits and I am sure that they are all better than the chemically-treated beds that you might find at one of the big bed shops.
If you are not concerned about metal springs and "electro-smog", Cotton Safe Natural Mattress organic wool mattresses provide an excellent option to those who prefer a sprung bed. Their Vegan Choice Mattress is the cheapest of all the mattresses reviewed, but the use of polyester means it cannot be considered completely non-toxic.
The wooden sprung VitalWood mattress provides a really interesting and innovative option, so if you are happy with the higher price tag it's certainly worth trying out their beds at their London showroom.
Demko, Milam and LatexSense mattresses all feature very similar Latex foam constructions, with very similar pricing. The Demko mattress was impressive for the fact that it appears not to use any animal products at the same time as forming part of their orthopaedic bed-system. I can also recommend the Serenity Organic Latex mattress since I am very pleased with the one I bought myself! Not only is their mattress non-toxic, comfortable and well-priced, but they also deliver extremely quickly.
Overall though, I think the Milam mattress just edges out the competition for their strong eco-conciousness and luxurious bedding. The people at Milam have also been kind enough to offer a 15% discount voucher to subscribers of our newsletter, so make sure to sign up if you are interested!
Of course the mattress is only one component of your bed, so I plan on writing future articles to look into mattress covers, pillows, divans, bed frames, duvets and bed linen. If you have bought any of these beds, or would like to recommend another, please let us know in the comments below, and remember to signup to our newsletter to keep up to date!
Share