Following up on our previous article looking at what makes different paints and wallpapers non-toxic, we thought you might want to know about the best paint and wallpaper available to buy at the moment.
We will be reviewing each option based on the effect to your interior air quality as well as other important considerations such as the range of colours available, ecological impact and vegan credentials.
Little Greene Paint & Paper
First on the list is Little Greene Paint & Paper. A traditional British paint manufacturer with records dating back to 1773, they are now partnered with the National Trust and English Heritage.
They have a strong commitment to the environment and as such they act to minimise their ecological impact without compromising quality. This commitment goes beyond the paint itself, with their paint tins made from 50% recycled steel and other warehousing procedures helping to reduce waste. They supply both water-based and oil-based paints (made from sustainable vegetable oils) which they claim have virtually zero VOC content. These are all made from natural ingredients, whilst their wallpaper is sourced from sustainable forests.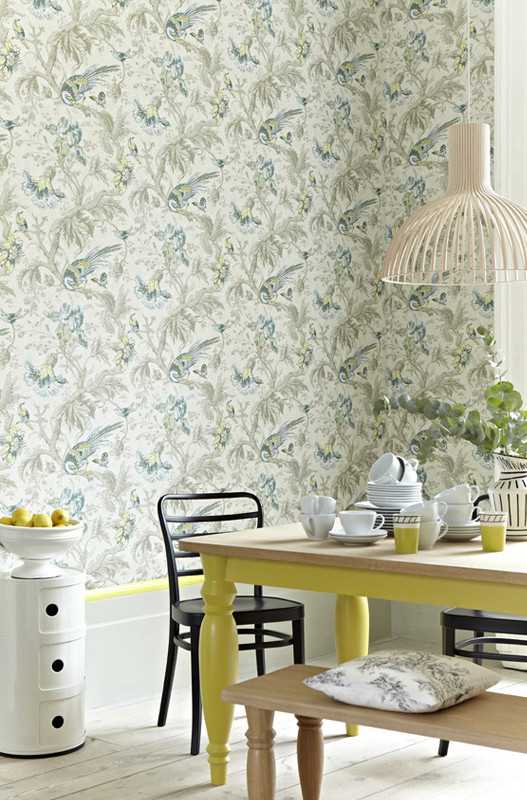 Their paint colours and wallpaper designs have a traditional yet contemporary and calming feel that should be suitable for most homes, particularly if you want to get an authentic period look.
Paints
The data sheets for all their paints are available on their website, making it very clear what standards are met. The Absolute Matt Emulsion, Intelligent Eggshell and Intelligent Matt Emulsion contain a maximum of two grams of VOCs per litre, equating to 0.2% VOCs, which should attain the best (minimal) rating on the British Coatings Federation Globe Scheme. In addition to the European standards on VOCs, they also adopt the more stringent "Safety of Toys" regulations which enforces limits on chemicals such as Lead, Chromium and Boron.
| Paint Category | VOC content | Safety of Toys Regs |
| --- | --- | --- |
| Limewash | 0.01% (Minimal) | No |
| Absolute Matt Emulsion | 0.2% (Minimal) | Yes |
| Distemper | 0.2% (Minimal) | No |
| Intelligent Eggshell | 0.2% (Minimal) | Yes |
| Intelligent Matt Emulsion | 0.2% (Minimal) | Yes |
| Masonry Paint | 0.2% (Minimal) | No |
| Intelligent Primer Undercoat | 0.6% (Low) | Yes |
| Wall Primer Sealer | 0.6% (Low) | No |
| Intelligent Gloss | 2.5% (Low) | Yes |
| Intelligent Exterior Eggshell | 3% (Low) | Yes |
| Flat Oil Eggshell | 30% (High) | No |
| Traditional Oil Eggshell | 30% (High) | No |
| Traditional Oil Gloss | 30% (High) | No |
| Traditional Oil Primer Undercoat | 30% (High) | No |
| Aluminium Wood Primer | 35% (High) | No |
| Tom's Oil Eggshell | 39.9% (High) | No |
| Floor Paint | 50% (High) | No |
Whilst the majority of their paints are very good, the table above shows that the VOC content does vary considerably depending on the type of paint you get. The Floor Paint is particularly bad, containing up to 500 grams of VOCS per litre (50%), but the traditional paints should also be avoided with 30% VOC content.
There are currently 221 paint colours available with ranges including "Green" and "Colours of England" with many of the colours being inspired by National Trust properties such as Beatrix Potter's Cumbrian farmhouse.
Wallpaper
When it comes to wallpaper, we need to look at the adhesive paste, the paper and the pigments and dyes used in the decoration. According to their "Greene Standard", all of these considerations are fully addressed. There are currently 312 wallpapers spanning the 18th to 20th century periods.
The paper used in our wallpapers comes from FSC or PEFC certificated sustainable forests; so for every tree used another four are planted. The pigments used to print them are completely non-toxic and our excellent wallpaper paste contains no solvent.
Conclusion
Little Greene provide a calming range of neutral paints as well as traditional arts and crafts wallpapers (amongst other styles). They appear to have a strong commitment to the environment and providing non-toxic paints with a low ecological impact. I was particularly impressed by the availability of data sheets for each of their products. Their Intelligent range of paints, the Absolute Matt Emulsion and wallpaper all provide excellent non-toxic options, however be careful to avoid their traditional ranges which have high VOC content.
As you might expect, the price is reduced if you order in higher quantities, so you can buy one litre of Intelligent Matt Emulsion for £25 or five for £86 (£17.20/litre). Whilst the Intelligent is more durable and washable, the Absolute Matt Emulsion is slightly cheaper at £16 to £22.50 per litre. If you would like to try out a colour first, samples are available on selected colours at £4.60 for a 60ml pot.
Toxicity: Very low in their wallpaper and most paints, but some categories still have very high VOC content
Vegan: Free from any animal derived products and no animal testing
Price: Approximately £15 per litre
Verdict: A great selection from an environmentally-concious company, but be careful to avoid their more toxic paints (shown in the table above)
Little Knights
Little Knights sell non-toxic 100% VOC and allergen free paints — in fact this figure has been confirmed in an Advertising Standards Authority challenge. Furthermore, in addition to their paint being odour free and anti-bacterial, apparently it also contains a monomer that absorbs and transforms household pollutants such as formaldehyde.

Their colour range is attractive, but fairly small, with a total of 42 different colours chosen by designer Louise Glass, who took inspiration from the Suffolk countryside. As discussed in our previous article on non-toxic paints, the small colour selection is actually fairly positive as it reflects the difficulties in sourcing non-toxic pigments.
Each of these paints comes in four different finishes: Matte, Eggshell, Silk and Gloss. These are all 100% VOC-free, although the gloss paint does not share the formaldehyde absorbing properties of the others.
Conclusion
Little Knights sell 100% VOC free paints, a claim that is backed up by the Advertising Standards Authority. Whilst their range is fairly limited, a lot of thought has gone into the calming Suffolk-themed selection.
The price per five litres is £58, which equates to £11.60 per litre, although the Gloss finish can only be purchased in 750ml pots costing £24 (£32 / litre). Samples are also available at £4.95 for a 100ml tin.
We rate their offering highly and it is good to see that their claims have been tested by the Advertising Standards Authority.
Toxicity: 100% VOC and allergen free, they can also filter household pollutants like formaldehyde
Vegan: Unknown, but since these paints are synthetic, they should also be vegan
Price: Approximately £12 per litre
Verdict: An excellent non-toxic choice if you are happy with a more limited colour selection
Auro
Next up, we have Auro. A family business based in Herefordshire, UK, they sell eco-friendly paints, wood treatment and cleaning products.
They have a positive corporate philosophy focusing on biodiversity, social responsibility, economics and ecology. It's also very useful to find that they provide a wealth of data sheets and certifications on their website. Furthermore, they provide a really useful page, listing the raw materials used in their products, where they are sourced from and how they have been modified.
The paints come in 80 different shades in their "Colours for Life" range, with more available on request. The colours are made with a mixture of earth and mineral pigments, which results in a calming neutral palette with very low toxicity.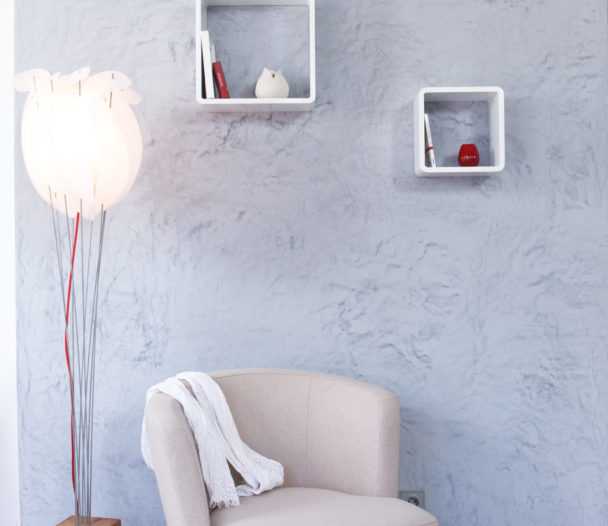 Looking at the data sheets for each product, I found that all their paints have very low VOC content — in fact, many of them, like their Lime Paint had no VOC content. Whilst the lime paint and others require tints to be added to them, the pre-coloured paints (such as the Classic Emulsion) all have minimal VOC content, so this is probably a good compromise that avoids the faff of manually mixing paints.
| Paint Category | VOC content |
| --- | --- |
| Chalk paint | 0% (Zero) |
| High-grade lime paint | 0% (Zero) |
| Anti-mould paint | 0% (Zero) |
| Air-fresh paint | 0% (Zero) |
| Lime tinting colours | 0% (Zero) |
| Classic emulsion | <0.1% (Minimal) |
| Premium washable emulsion (coloured or white) | <0.1% (Minimal) |
| Clay paint (coloured or white) | <0.1% (Minimal) |
| Silicate paint | <0.1% (Minimal) |
| Tinting colours | <0.1% (Minimal) |
| Wall glaze wax | 0.5% (Low) |
Since their rarest mineral pigment is 10 times more expensive than their most abundant earth pigment, the price varies depending on the pigments used, so one of the most expensive colours like Water Lily will costs £84 for a 5 litre pot of premium emulsion (equivalent to £16.80 / litre), whilst the cheaper shades are a little cheaper at £74 for 5 litres (£14.80 / litre). Their clay paints are a little cheaper at £64 for 5 litres (equivalent to £12.80 / litre).
Conclusion
Auro have a great company philosophy and provide a good range of natural and non-toxic VOC-free paints. The freely available and in-depth information on their website is a definite plus point too. The prices are reasonable at between £13 and £15 per litre, with taster pots available for £5.
Toxicity: A range of zero VOC paints and minimal VOC content in their coloured paints
Vegan: Natural and vegan
Price: Approximately £13 to £15 per litre
Verdict: An excellent non-toxic choice with a range of natural tones
Lakeland
Lakeland paints sell a range of non-toxic and eco-friendly paints. They are actually the company that challenged Little Knights on their 100% VOC-free claim (which turned out to be true), given that result, Lakeland now also state that their paints contain zero VOCs as confirmed in independent testing:
All of our paints, etc have been independently tested for VOC to EPA 8260c and shown to be Zero VOC = to be clear, this means 0.0% VOC. ASA/CAP inquiry 28/3/18 A17-396612 - We are required by ASA/CAP to make an explanatory statement about our Zero VOC claims - "Current science can easily detect VOCs at the edge of space, so any claims of VOC-free must be qualified - ie. We use No solvents or VOCs and (if present at all) VOCs are in the original raw materials at a tiny fraction of EU/UK limits". As far as we know, no other company worldwide can make this claim.
According to the Lakeland website, all of their paints and varnishes have been tested to be Zero VOC. They are also odourless, organic and natural — with 180 different colours (as well as a colour matching service), they also have one of the wider colour palettes. One of the more impressive aspects of this, is that it includes various specialist products such as floor paint, which would usually have higher VOC content (Little Greene's floor paint contains 50% VOCs).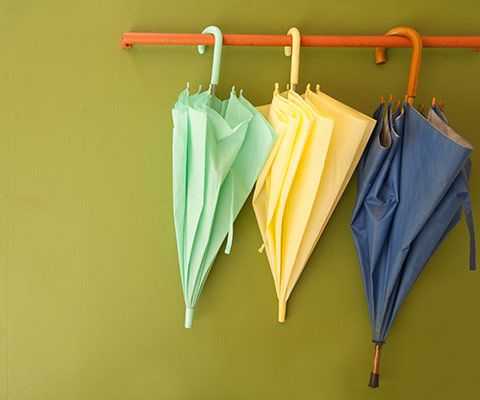 The price varies from product to product, some shades are also more expensive, so a simple white matt wall paint is available at £55.35 for five litres (£11.07 per litre), whereas the more specialist "Insulating Matt Paint" with a clay blue pigment costs £102.73 for five litres (£20.55 / litre).
| Paint Category | VOC content |
| --- | --- |
| Eco-friendly wall paint | 0% (Zero) |
| Wood and metal paints | 0% (Zero) |
| Products for wood | 0% (Zero) |
| Eco friendly floor paint | 0% (Zero) |
| Eco friendly masonry paint | 0% (Zero) |
| Specialist paints | 0% (Zero) |
Conclusion
Lakeland are particularly impressive as they provide a wide range of paints, including various specialist paints and finishes, which can all claim to have 0% VOC content. Not only that, but they also have one of the widest ranges of colours, making them a great option where you can be confident that you can get the right paint for the job and know that it is non-toxic. The price is also very reasonable, starting at £11 a litre, with tester pots available for £3.12.
Toxicity: Zero VOC in all paints and varnishes
Vegan: Natural, organic and vegan
Price: £11 to £20 per litre
Verdict: An excellent non-toxic choice with a wide range of colours
Verdict
Writing this review has shown me that there is a lot to know about paints and what goes into them! On the whole, each paint supplier has been very impressive and they all sell a number of great products. Both Little Knights and Lakeland are particularly impressive as each of them only sell 100% VOC-free paints and varnishes, making buying from them that little bit easier. Overall, Lakeland are just about the best given that they have a much wider range of colours and paint categories whilst also being 100% VOC free.
All the paint suppliers listed here do a really good job of letting you know what goes into their paints and so I could recommend any of them — hopefully the tables I've put together here make it a little easier to work out which paints would be suitable for your home!
The research involved in this review has taken somewhat longer than anticipated, so I plan on updating it to include Earth Born, Earth Easy, Natural Paints Online and Nutshell Paints as soon as possible!
If you have experience with any of these paints, please let us know in the comments below, and remember to sign up to the newsletter if you would like to be kept up-to-date with all things non-toxic!
Share